Short races hurt..
..but at least they're over quicker!
I'm more of a "marathon and beyond" kind of runner, but I couldn't pass up a chance to participate in the
women's half marathon trail run
because it's 1) a trail run, 2) put on by the
Virginia Happy Trails Running Club
, and 3) so close to home. I didn't run after The Ring last weekend and only did Crossfit on Wednesday and Pilates on Friday as my workouts of the week. Pretty lame, I know, but I was dealing with sore feet, the poison ivy on my legs, and trying to figure out what it was and just wasn't up for working out.
I wanted to use the race as a 'cool down'. I had no plans to run fast whatsoever, and just wanted to enjoy running on runable trails with not as many rocks. The course is basically two out and back sections of the Bull Run Run course. The first is to The Do Loop and back to Fountainhead, while the second half is out to Wolf Run Shoals and back. Sounds easy!
The day was more humid than expected and I didn't plan accordingly and had no salt tabs. I also blew up on the road section that's used to spread out the group. I went out WAY too fast to get ahead of the not-so-seasoned trail runners and paid for it out at the Do Loop. I was fortunate enough to have a fellow ultra runner catch up to me in this section and give me 2 salt tabs (as I did to her back in 2004 (I think) in a 50k when she was in need of salt) and she was also good for conversation - upcoming races and shoes. It's the non-trail equivalent to weather and politics. She went ahead, but I tried to keep her in sight the rest of the way.
I honestly considered dropping out at Fountainhead, around the 7+ mile mark. It was hot, I shouldn't have been out there, my socks were soaked with sweat, my shorts were sticking to me from sweat, and it was just a blah day. I knew the next section from having trained out there a number of times, so I just gutted it out.
I finished pretty middle of the pack, which is a step above the back of the pack I'm used to finishing in for longer trail runs. I've considered doing a few of the
Backyard Burn
runs in some mild attempt to get faster. It's worth a shot, but there are other ways to get faster without racing every weekend. At this point, this is my last race of the year. My focus is on rugby until November when I switch mental modes to MMT. I hope to get out on the trails just to hike on 'free' weekends, but they will be few and far between until November. Weekday runs will be on the road and I'll keep up with the usual CF workouts in between.
Below is a picture from the start of the race. I wasn't as smiley, or as dry, 2 hrs and 42 minutes later. I don't know why it is, but the brim of my hats always look 2 feet long.
Prerace picture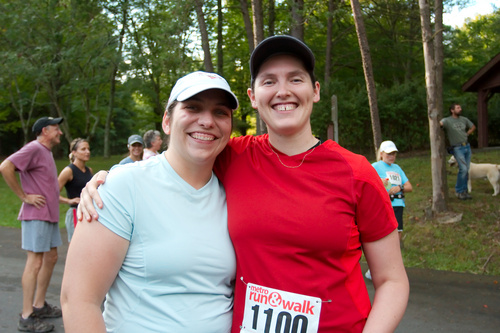 Photo courtesy of arronspics